Where does your brand begin?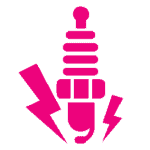 READY!
You're in the beginning stages of developing your brand. You may need some guidance or already have a concept. You're ready to go. You just need the tools to get your motor running.

SET!
Your product or service has been around the track a few times. You want to draw more customers to your business. Maybe it's time for some fine tuning or time to go in a completely new direction.

GO!
You've got a successful brand. You know what works and what doesn't. Time to put the pedal to the metal. Explore new routes. As your creative partner, we'll help move things along.
Visual identities tell your brand's unique story. It's more than just your logo. We create a cohesive visual language that shapes the perception of your customers and makes your brand memorable.
Logo Design
Brand Guidelines
Visual Design Elements
Stationery
Promotional Materials
Branded Attire
Print material offers a unique brand experience that is tangible and can't be replicated online. We create effective print design that helps you reach your target market and establish brand recognition.
Brochures
Flyers
Ads
Information Graphics
Illustrations
Menus
Packaging
Whether it's a website, online advertisement, email campaign or even a business presentation, we create compelling visuals that allow your customers to interact with your brand on a more personal level.
Websites
Ads
Powerpoints
Email Campaigns
eBooks
Video Editing
Motion Graphics
Effective signage can grab a customer's attention in a split-second and draw people in. We create eye-catching graphics that guide customers through your brand experience and create a unique impression in the customer's mind.
Interior/Exterior
Digital Signage
Menu Boards
Billboards
Trade Show
Vehicle Wraps